Buying a wedding gown online can be a great way to save money and find the perfect dress for your special day. However, it can also be daunting if you need help figuring out where to start. 
Here's our ultimate guide to buying a wedding gown online, with suggestions and tricks to help you make the best decision.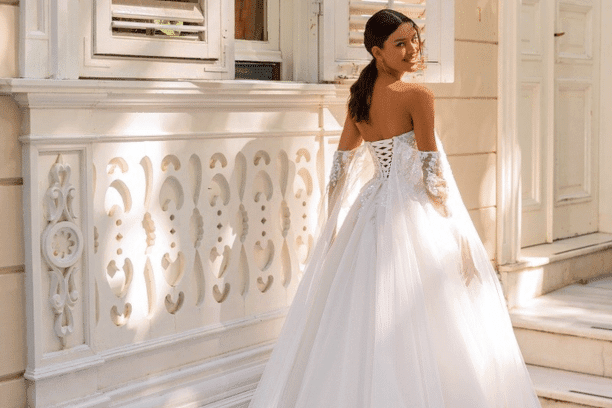 Research:

Before making any purchases, research the styles and designs of wedding gowns you like. Look for inspiration in magazines, Pinterest, or Instagram, and list your favorite designers and styles. It will help you narrow down your options when searching online.
Measurements:

Getting your measurements right is crucial when buying a wedding gown online. Measure yourself carefully and compare your measurements to the size chart supplied by the online retailer. If you need more clarification, order a size up, as it's always easier to take in a dress than to let it out.
Reviews:

Review previous customers' reviews to see their experiences. Look for comments about sizing, quality, and customer service. If most reviews are positive, it's a good sign that the online retailer is trustworthy.
Return Policy:

Read the return policy carefully before making a purchase. Some online retailers have strict return policies, and you want to avoid being stuck with a dress that doesn't fit or isn't what you expected.
Communication:

Communication with the online retailer is critical. Reach their customer service team for help if you have any queries or concerns. A reliable online retailer should be responsive and helpful.
Try-On:

Once your wedding gown arrives, try it on right away. If you're unhappy with the fit or the quality, contact the online retailer to arrange a return or exchange as soon as possible.
Thus, buying a Wedding gown Dubai can be a great way to find the dress of your dreams while saving money. However, it's essential to research, take accurate measurements, read reviews, and communicate with the online retailer. With these tips and tricks, you can find the perfect wedding gown online and have a stress-free shopping experience.
Trust NurJ Bridal If You're Looking for a Wedding Gown Online!
NurJ Bridal is an entrusted and reliable online retailer of wedding gowns. With a broad spectrum of styles and sizes, we offer affordable and high-quality wedding gowns for every budget. In addition, our customer service team is always available to answer any questions or concerns, and their return policy is fair and straightforward. 
Therefore, if you're searching for a Bridal gown Dubai, contact NurJ Bridal for a stress-free online shopping experience and find the wedding gown of your dreams.